Point Reyes National Seashore
After Redwood National Park, we continued south, back towards the Bay Area, for the fifth and final camp spot of our Epic Summer Road Trip. Point Reyes National Seashore is another spot we'd been before, but we'd never had a chance to camp nearby. Also, Point Reyes is one of those places you could visit every day for a year, and still not feel like you'd seen it all. We spent three nights at the Olema Campground, and had a great experience. We loved our campground hangout time, foggy mornings and warm afternoons, and appreciated being so close to the park. The cats loved this spot for all the bird watching, and all the amazing dirt and grass they could roll in.
The weather was tricky during our August stay, some mornings we had cloudless blue skies and an uncomfortable amount of heat. Then, after an hour or two the clouds and fog would roll in, and we'd be digging in to our cold weather clothes box, seeking coats and hats and gloves. Layers are key to any visit to the Northern California coast, but especially in Point Reyes.
On our first day of exploring, we started in the Bear Valley Visitors Center, one of the only visitors centers open at that time. We stamped our passports, got a pin for our board, and collected our park maps. We picked a few potential hikes and studied all the creatures we might find in the park. Then we headed to the southern part of the park, with the lighthouse and the Chimney Rock Trailhead. We knew the lighthouse was closed on the day we were visiting, but when we arrived it was so cold and cloudy, we couldn't see much at all. We moved along to Chimney Rock, and took the 1.7 mile round trip trek to the overlook. No elephant seals or sea lions were out, but the hike itself, walking between the bay and the ocean on the peninsula, was still spectacular.
On our last full day in the park, of our road trip, we hiked the Tomales Point Trail. Last summer, we had attempted to take this hike, but were turned away as the parking lot was full. My favorite hiking guide says this is the BEST hike in the STATE for viewing wildlife, and if we lived closer, this is one of those trails we'd hike over and over. At six miles round trip it would also be our longest hike of the summer (we've gotten out of practice!) For some reason, I didn't pack us any snacks (really out of practice!)
This was an awesome hike, and we did see plenty of cool creatures. We found hawks and kites, before we even left the parking lot. We found deer, and Miles spotted a coyote crossing the trail behind us. And elk. On our way out, we saw Tule Elk at quite a distance, impressive even from far away. Then, on the return trip, probably around mile five, a dozen or so elk were right by the trail. The boys remembered their Elk Etiquette from Redwood National Park, and were a bit nervous. We kept our distance, and appreciated these awesome creatures from a good distance.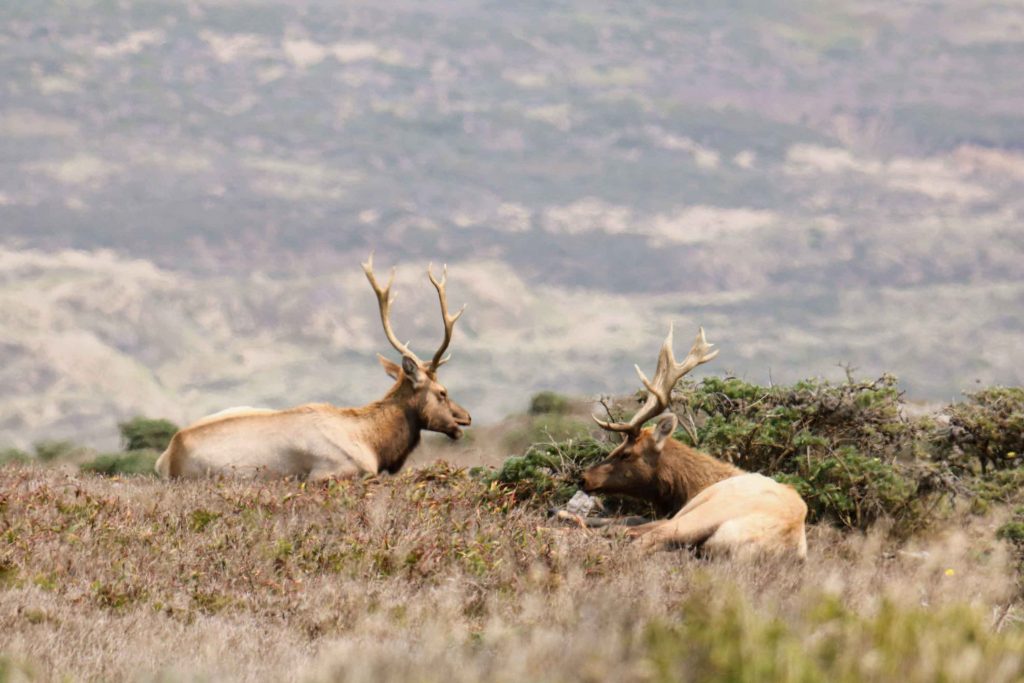 As we drove home, we reflected on our favorite parts of our road trip. Miles chose visiting Grandpa Kirk and Tutu Joy and Gala as his favorite, and Noah agreed, adding taking the peddle boat out on Lemolo Lake as a tie. I also loved our time on the Oregon Coast, particularly the pace of our days there. I also rated the overall success of our camping cats as a highlight, and returning to Fern Canyon. Nathan's favorite part was going slowly. Having time at each campsite to play cards, sleep in, and just relax made this a great trip for him.
Thanks for joining us for this summer road trip. If you missed any stops along the way, the whole playlist is available here.
Music from this video, all from Epidemic Sound:
Talking Trees by Max Kershaw
A Walk Among the Clouds by Imprismed
Fog Lake by Spectacles Wallet and Watch