Grand Teton National Park
This summer we set out for an almost four week trek through some of the most incredible scenery in the Western United States. Some parts of this trip had been in the works since 2018, when we first ordered our camper, and were delayed through 2020 and 2021. This was our year!!
Our first stop was Grand Teton National Park. That's a long way from the central California coast, so we spent our first overnight in Elko, Nevada. We stayed at the Iron Horse RV Resort in Elko, which was great for a quick stop. We did find spot another family camping with their cats, which is always awesome. Noah and I made an early morning trip to Cool Beans Coffee and Ice Cream, for coffee and breakfast burritos. Even though we were on the road before 11, it was still really warm when we set out. Even over two days, this was a long way to travel!
When we arrived in Jackson Hole and set up camp at The Virginian RV Resort, we were surprised to discover we were right in the center of town. This seemed like it might be a bit of a drawback at first, but turned out to be a major win. Jackson Hole is so full of cool things to see and do, we decided to break our time there into two videos worth of info. This first video features the things we did IN Grand Teton National Park. The next one will cover all the things we did in Jackson Hole OUTSIDE the National Park. Look for Part Two fairly soon.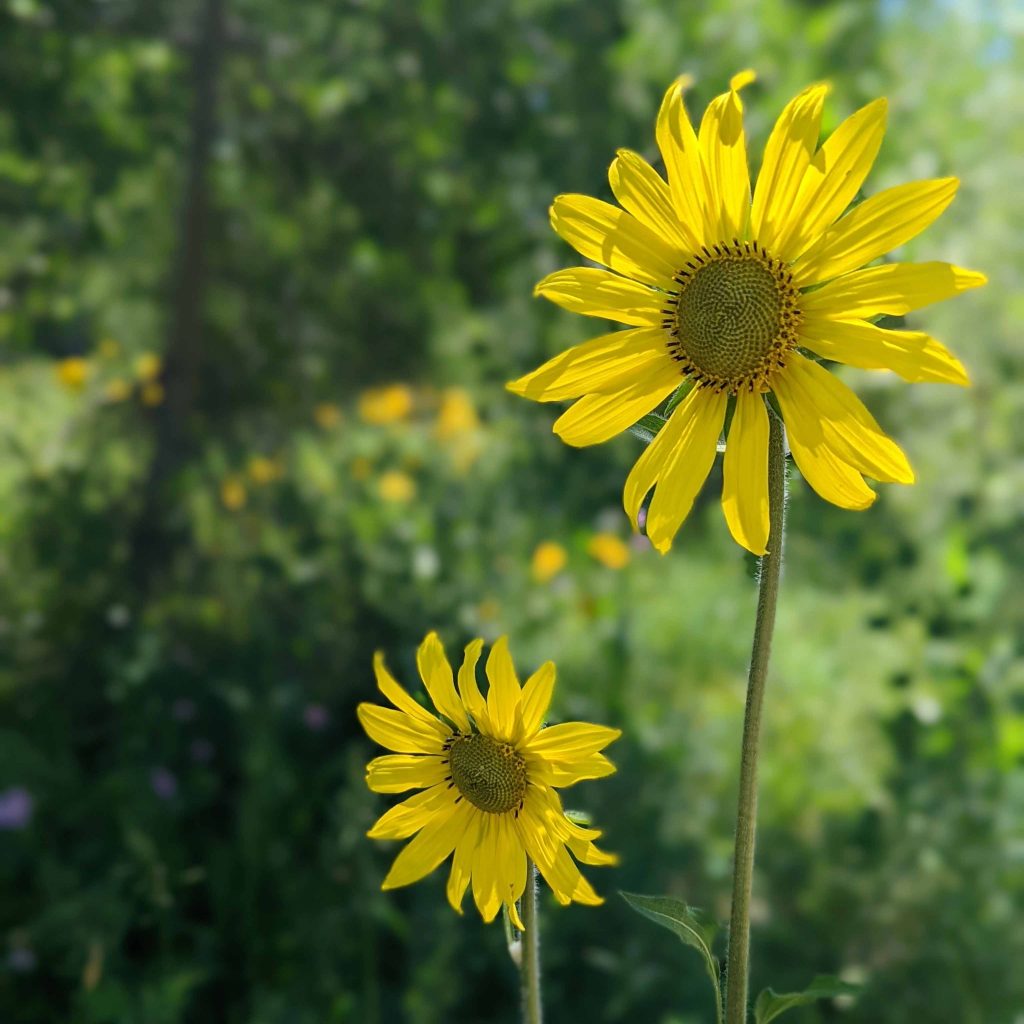 Our first day in Grand Teton National Park, we drove the Inside Outside Loop. We started heading north through the park on the Teton Park Road, turned east at the North Park Road Hwy 89 junction, and then looped back south on Hwy 26/287. This gave us a really good sense of the park, and of course, EPIC views of the mountains. I had purchased and downloaded the Gypsy tours US Northern Parks bundle, which included Tetons, Yellowstone, Glacier and a few other parks we didn't have on our itenerary this summer. These tours play automatically based on our GPS location, and the tour guide quickly became another valued member of our travel team. We learned about the history of the park, the geology of the mountains and the biodiversity of the Yellowstone Tetons ecosystem.
One of the first things I had booked for our time in the park was a Sunrise Wildlife Adventure with Ecotour Adventures. We met our tour guide at six am in downtown Jackson Hole for a four hour tour, that turned out to be almost five hours of awesomeness. Morning in the park is spectacular, both for the beautiful light on the mountains and for the creatures that are more likely to be visible. We saw a moose and her calf, bald eagles, a coyote and pups, pronghorn antelope, a mama grizzly bear and her three cubs, an elk, and a red fox. The boys loved being able to pop up out of the top of the Ecotours van. Our tourguide Tyler was super engaging, and knew all the tricks to finding animals out in the park. This was a great start to our summer adventure and a good way to see a lot of cool creatures early on. We'd highly recommend this as an addition to your Tetons experience!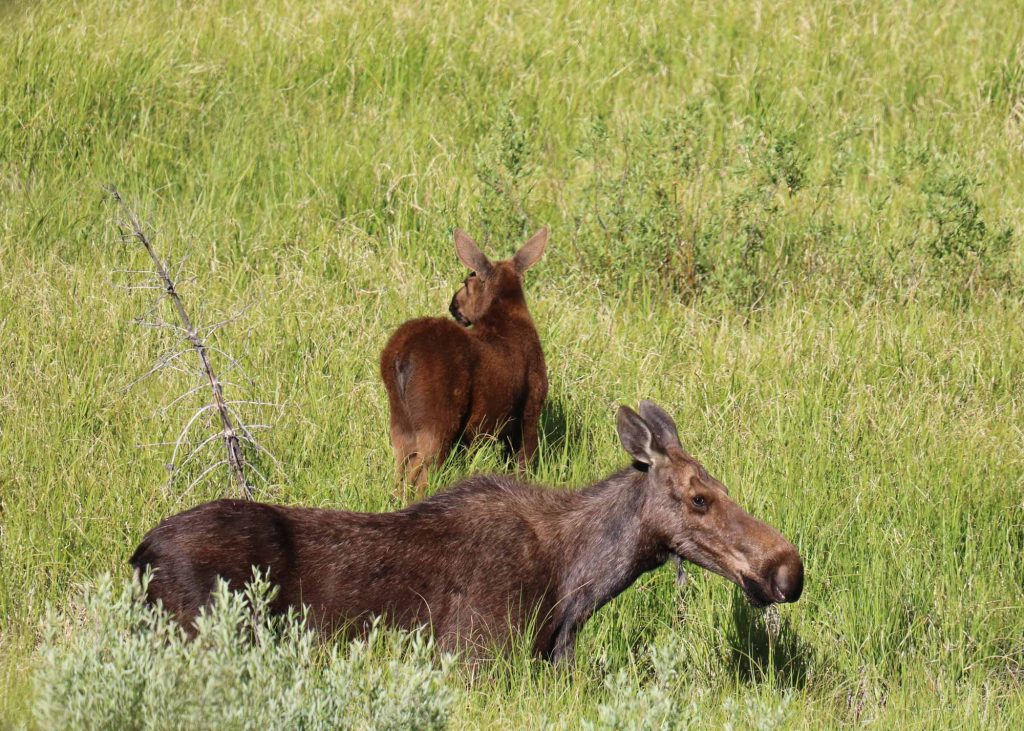 Another early morning experience — we got into the park by seven and hopped on one of the first boats across Jenny Lake. We planned to hike to Hidden Falls and Inspiration Point. Starting early meant we could park in the crowded lot at Jenny Lake, we didn't have to wait to get on the boat, and we actually had a few solitary moments in front of the falls. You can hike around the lake to the trail for Hidden Falls, it's 2.2 miles from the boat dock to the start of the Hidden Falls. Saving ourselves a total of 4.4 miles, while getting the chance to be out on the lovely water of Jenny Lake was definitely a great choice. The walk up to Hidden Falls, and then on to Inspiration Point, was a climb, but definitely a worthwhile challenge. We continued our loop and came back to the lake on a horse trail, and found lots of great wildflowers and fewer crowds.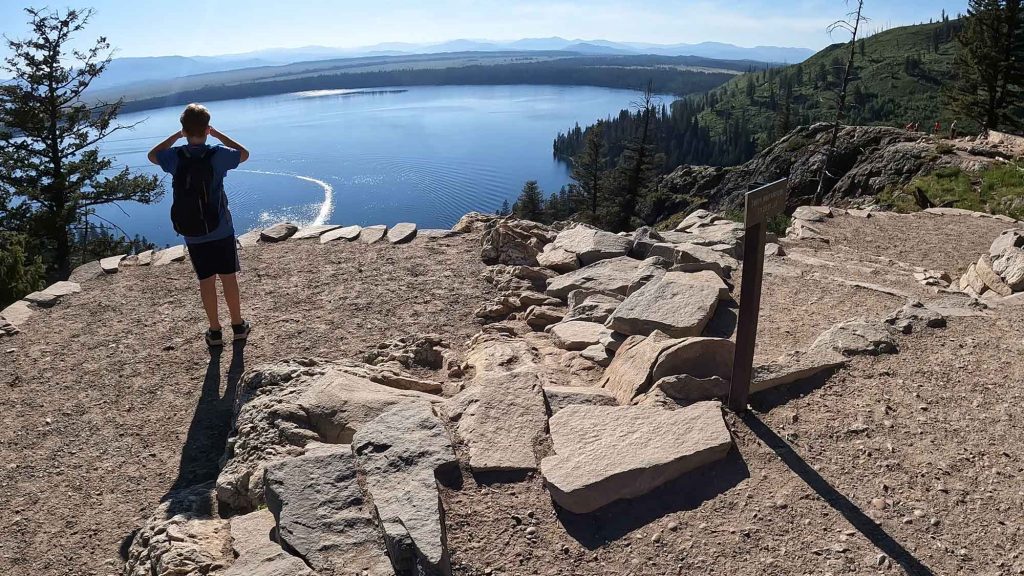 We could have spent another month hiking and exploring just in this park, and we're looking forward to spending more time in the Tetons on another visit. Be sure to check out our tips on visiting Jackson Hole as well!
Our planning resources:
Music from this video, all from Epidemic Sound:
Talking Trees by Max Kershaw
Day of Mine by Biddy Sullivan
Something Beautiful by Ten Towers
Meadowlark by Headlund