Crater Lake and Lemolo Lake
Our second destination on our Epic Summer Road Trip was Crater Lake National Park. We had been to Crater Lake in 2018, during a summer of intense wildfire ativity in California and Oregon (much like this summer, and last summer.) When we arrived at Crater Lake, there was so much smoke in the air we were barely able to see the water from the Rim Trail. Though they have been to Crater Lake, the boys have never really seen Crater Lake.
We were just as excited to spend some time at Lemolo Lake and to check out the surrounding waterfalls. We camped at the Lemolo Lake / Crater Lake North KOA, and really enjoyed our stay. Our welcome email from the camp hosts warned us to come fully prepared with groceries, as the nearest grocery store of any size is 80 miles from the campground. The drive in to the campground traverses a half-paved road, and definitely feels remote. Our campsite backed up to the woods, and though it looked like there had been a fire in the not to distant past, we still enjoyed the space and the view out into the trees. Cloud and Solar enjoyed watching all the chipmunks. The days were warm enough that we turned on our air conditioner, and the mornings were cool enough that we needed our heater. A campfire ban had been institututed just a few days before our arrival. (As it turned out, the forest fire in Lassen National Park, where we'd just left was growing so quickly they closed the park to visitors shortly after we left.)
Pets are allowed in Crater Lake National Park anywhere cars can go, parking lots, picnic areas, and scenic overlooks. There are also a few trails in the park you can share with your pet, including the Rim Trail, overlooking the lake. We had done a ranger led hike and Junior Ranger activities with the boys three years ago, and so were content to take the cats and stroll along the Rim Trail a bit. We entered the park in the afternoon, showing off our Every Kid in a Park pass at the unstaffed North Entrance station. The boys carried the cats in their packs until we got to the overlook, and then we gave them a little time on their leashes. Cloud and Solar were curious but a little nervous, so we sat near the Rim Village Visitor Center, listening to a ranger answer questions, while the cats got comfortable. We got our passports stamped, collected a pin for our map board, and then went on a drive around the lake. Sharing the overlooks with the boys and the cats turned out to be the perfect way to enjoy Crater Lake.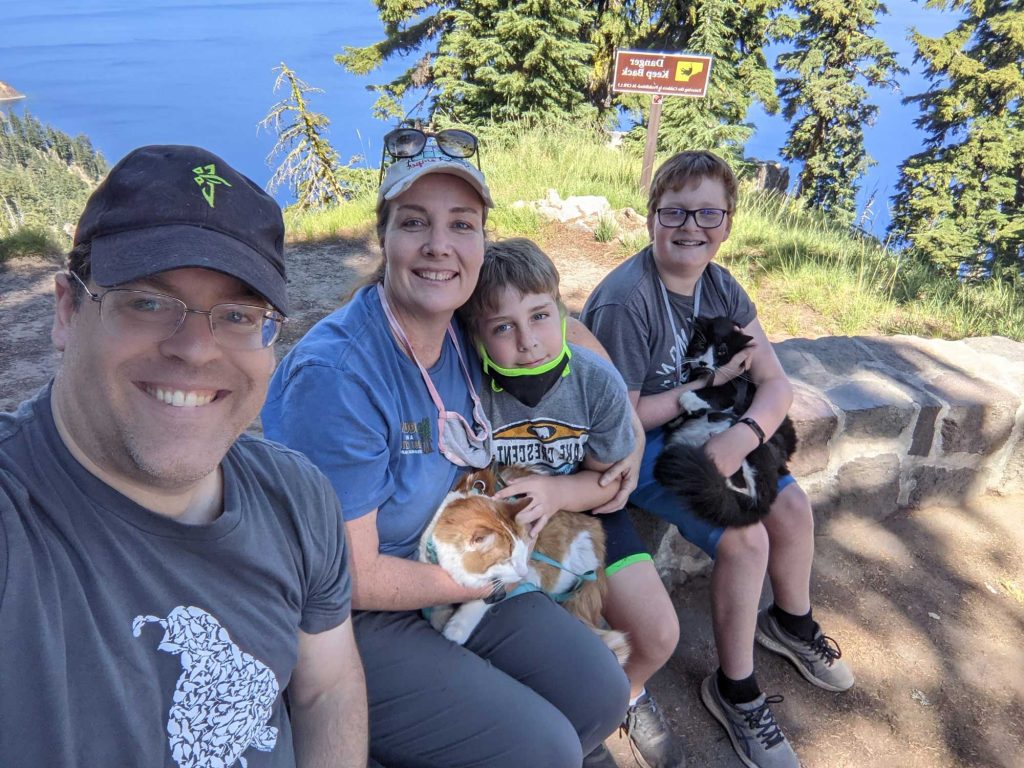 Emboldened by our success sharing Crater Lake with the cats, we decided to try taking them on an actual hike. We've walked them around our neighborhood before, but never out on an actual trail. Near the Lemolo Lake KOA there are at least half a dozen waterfalls you can visit on foot. We chose three falls, all with very short walks (between 100 feet and 1 mile) to explore with the cats. Watson Falls, with the longest hike, was our first stop of the day. It wasn't a long walk, but it was an uphill walk, so we took turns carrying the cat backpacks. We let the kitties peek their heads out of their bags while we walked, and let them out on their leashes when we took a break at the top of the falls. They didn't like the sound of the water at first, but adapted fairly quickly. Both cats really enjoyed the wooden boardwalk out to Whitehorse Falls, but by the time we got to waterfall number three, Clearwater Falls, only Miles and I got out of the car. Noah, Nathan, Cloud and Solar missed out, that was another lovely waterfall.
I had told the boys we could rent a paddle boat and take a ride on Lemolo Lake, so on our last afternoon, we launched the SS Quail Whale for a two hour tour. I thought they would be grumpy after a few minutes of pedaling, but they did such a great job. Both boys took a quick swim in the lake, we pedaled in circles, and told silly stories about how we were more cut out for life at sea than life on land. Noah requests that next time we rent a yacht. Sure thing, buddy.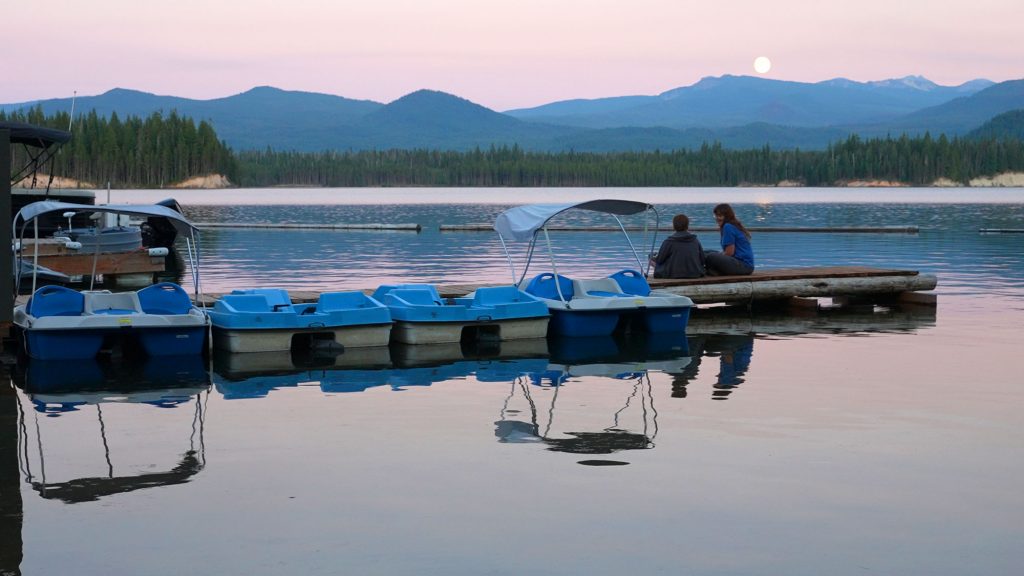 One of my favorite things about this long road trip is how we built time into each day for relaxing. The boys developed an interest in cards somewhere along the way. They wanted to perfect their shuffling, Nathan taught them to play poker and blackjack, and we played several hands of Thirty One. Both boys worked on a few basic card tricks, and I was directed to "pick a card, any card" over and over and over. Card games, waterfall hikes, and swimming in a lake, this was an awesome summer camping spot.
Music from this video, all from Epidemic Sound:
Talking Trees by Max Kershaw
Caffinated and Motivated by Airae
Chuggin Away by River Run Dry
Out of the Window by View Points