Part Two of our Sequoia Spring Break Trip
I remember lots of amazing moments hiking with my family. Epic waterfalls in Olympic National Park. The elk we saw in Fern Canyon in Redwood National Park. So many hikes to beaches, where the guys would dig and dig and dig. A few hikes I remember because they were hard, and because in finishing them, my kids shocked me with their determination and resilience. The eleven miles of Fall Creek last summer was that sort of hike. And now we can add climbing Moro Rock to that list.
Moro Rock is an iconic hike in Sequoia National Park. You can see the massive granite dome jutting out of the forest as you drive up the General's Highway, and the landmark is visible from many of the other park attractions. The hike shows up on almost everyone's "must do in Sequoia" list and you can hike almost every step of the way virtually from YouTube or Instagram. I'd seen the hike from start to finish several times before we even left home.
I thought the challenge of Moro Rock would be hardest on Nathan, as he is the family member most uncomfortable with heights and ledges and cliffs. I hadn't actually planned to do this hike, not wanting to push any Quail Snail hiker too far outside their comfort zone. Yet as we looked at the open trails, and read the brochures, Nathan seemed ready to give it a try.
In the summer, shuttles run to the foot of the stairs or you can drive to a parking lot (which probably fills up quickly.) When we visited in April, we could only get as close as the parking at the Giant Forest Museum. This left us with about 1.7 miles to hike to the bottom of the stairs at Moro Rock. As we ate our sandwiches in the truck at the Giant Forest Museum, we guessed how long it would take us to climb the 380 stairs when we got there. We agreed we could go as slowly as we wanted, and we could turn around if it was too tough.
The hike to the base of the stairs was lovely, with sweeping views of the park and the mountains. The boys were still a little tired after the Tokopah Falls hike the day before, but generally in pretty good spirits. Noah's biggest frustration was that I declared we had to take a family photo from the top of Moro Rock when we got there. It took us about 40 minutes to hike the trail to the stairs.
We started up easily enough, with everyone keeping their own (different) counts of the steps for the first 100 steps or so. The stairs were built in by the National Park Service in 1931, and are very well maintained. It was not crowded, I'm sure compared to the summer season, but there were still a lot of folks on the stairs, and passing people coming down was a little tricky. We were glad to have our masks. After about 180 stairs, we got to a lookout with some great benches. Looking up we could see people nearing the top of the dome. Looking down we could see crows soaring.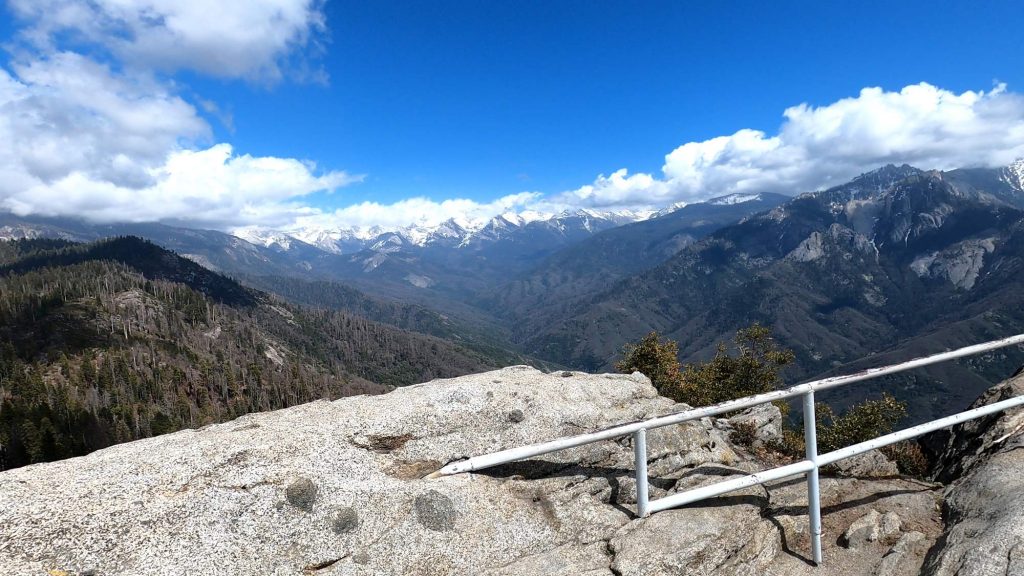 Just like the previous day, Noah was leading our line, followed by Nathan, with Miles and I bringing up the rear. Nathan and Noah had gotten a little ways ahead of us on the second leg, with a few families in between. At this point, Miles was suddenly struck with a fear of heights. Or a fear of the rock tumbling to the valley below. He'd been crusing along just fine, and then it hit him. Unfortunately, there was no great way to check in with Nathan and Noah, to let them know to wait up.
Miles and I decided to carry on, a little bit at a time. He'd keep his eyes on the inner walls of the rock. We'd stop regularly to breathe and decide if we should keep going. He let me know when he needed to stop and when he was ready to climb more. Other hikers checked on us, and delivered a message to Nathan and Noah at the top, that we were coming. People made space and gave encouragement. Miles pushed through, again and again, and when we got to the top, some of the folks who'd passed us gave him a little cheer.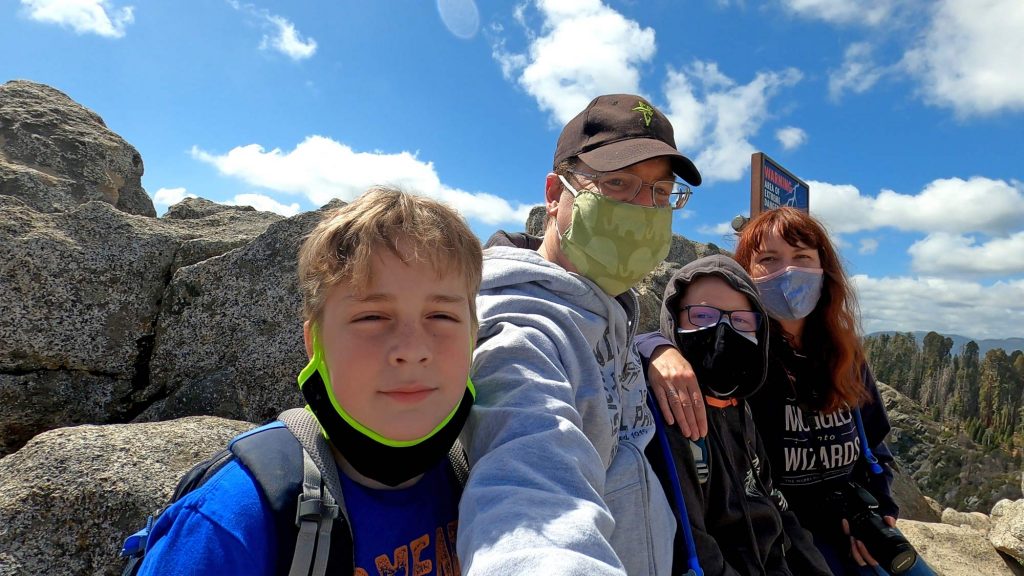 We only spent a few minutes at the top. Noah and I walked all the way out to the end. We took lots of video to enjoy when we were back on the ground. We got an epic family photo.
The way back down actually felt more nerve wracking than the way up, but we made it safely. We opted to take the road back to the Giant Forest Museum, and a fellow hiker pointed out an Acorn Woodpecker she'd spotted just off the trail. This was our most dramatic wildlife sighting of the trip, and a great treat after our big climb.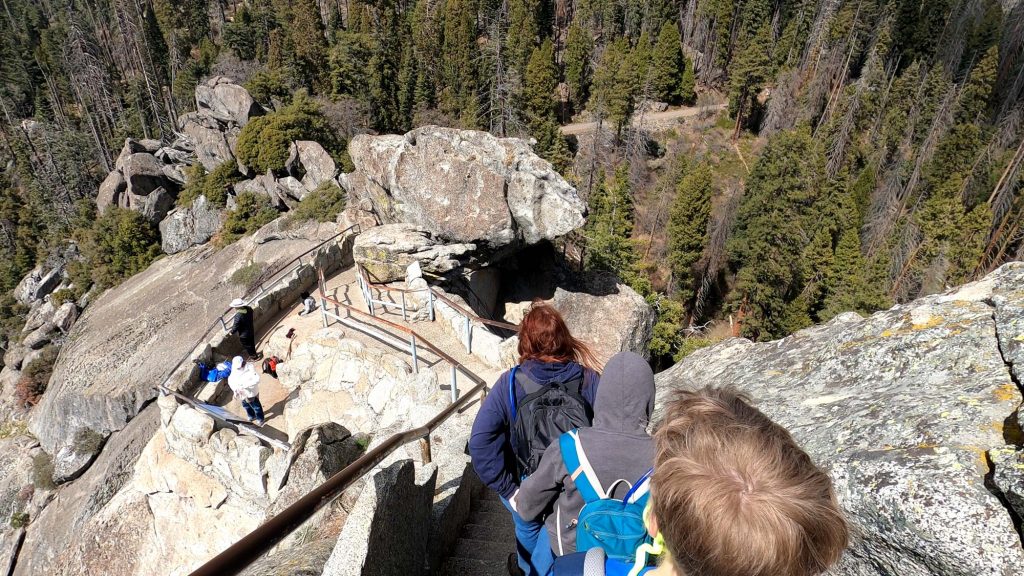 To see our video about climbing the stairs on Moro Rock, check out our video here:
Music from this video, all from Epidemic Sound:
Talking Trees by Max Kershaw
Mountain Skylines by David Celeste
Unbroken Spirit by Sunfish Grove