Yes, it's bold to make plans for travel, camping, and exploration in the middle of a pandemic, but we're in the mood to look forward. Last year certainly taught us that plans are always changing, hard to predict, and likely to be canceled. Still. It's a new year and hope springs eternal. Here is our Outdoor Adventure Wishlist for 2021.
Hiking :
My hiking wish list is long. I have post its, bookmarks, and emails full of suggestions. I marked every hike with a difficulty of 1 or 2 and a scenery of 8 or above in the San Francisco Bay Area section of my Moon California Hiking Guide. Peninsula Open Space Trust has an awesome calendar with a few choice hikes featured every month. Santa Clara County Parks has a "Pix in Parks" program I've always wanted to try. The Santa Clara Valley Audobon Chapter has several self guided bird walks.
I let the boys suggest a number of new hikes they'd be willing to attempt this year. Secretly, I was thinking we could agree on twelve new hikes. When asked, Miles suggested THIRTY. Noah nodded in agreement. Bring it on, my awesome adventurers.
Camping :
This one will be tricky, because as of January 2021, all non-essential camping is prohibited in our area. This probably isn't a time to quibble over what exactly is "essential" either. Regardless, we have a list of places we want to camp this year.
Yosemite — a family favorite we haven't seen in at least three years
Pinnacles — we've canceled two trips to Pinnacles, and we're more determined than ever to visit
Local campgrounds — Pescadero, Mt. Diablo, Henry Coe, really wherever we can get to easily
Sequoia Kings Canyon — It's close to home, and I am the only one in our family who has been there before
Pacific Northwest Loop — Noah really wants to return to Redwood State and National Park, and I really want to go back to Olympic. We are aiming for a loop that includes Lassen and Crater Lake, and a stop on the Oregon Coast.
Tech / Gear / Alto projects :
We have lots of tech and gear goals, but we narrowed this category down to just a few projects. After all, we have a lot of hiking and camping planned.
We have a rear view camera to install on the Alto, and we're thinking of swapping out our microwave for a toaster oven. S'mores in the toaster oven are so much better than from the microwave, and Noah loves a bagel for lunch. We need to sort out a solution for mounting the GoPro inside the trailer, so we can catch Alto life as it unfolds. Nathan is looking forward to more dark skies and astrophotography. I want to learn to fly the drone.
Creatures:
I added this section to our list of contenders because we had so many cool creature moments on our hikes in 2020. I was thinking I'd need to motivate the boys to do more hikes! We brainstormed a few creatures we'd like to see in the coming year.
River Otters
Tule Elk
Whales
California Condors
Salamanders
We're going to keep a list of all the new creature friends we see this year.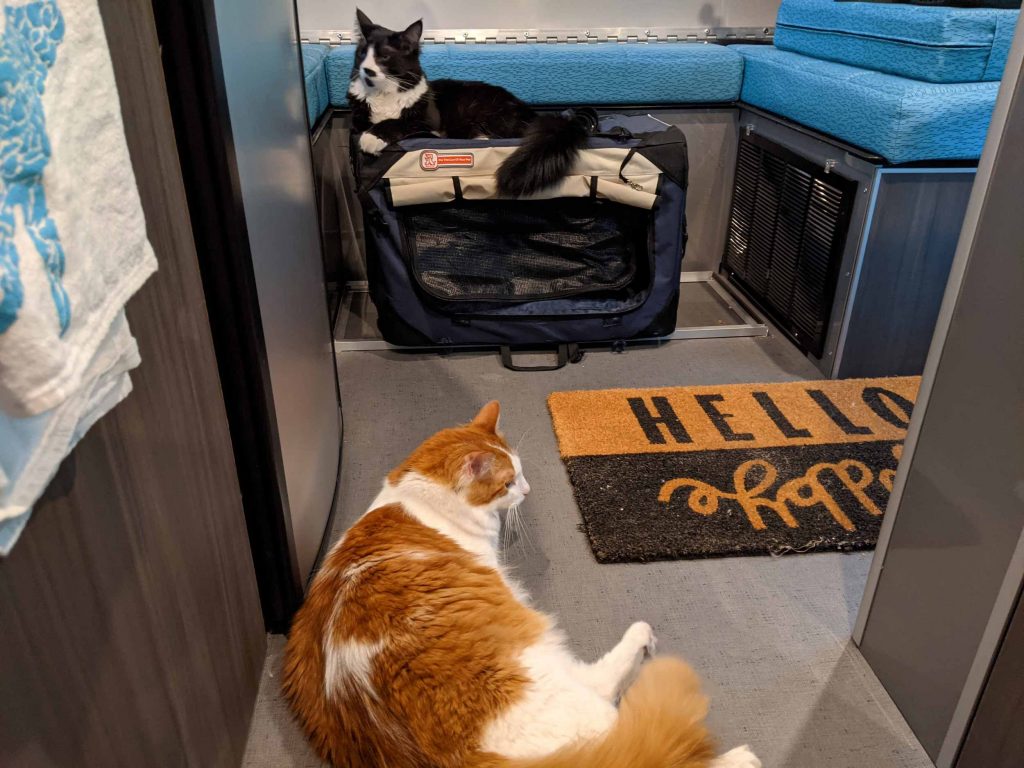 And speaking of creatures:
A big goal for this year, one the boys are most excited about, is to get to a place where we can take the cats camping with us. Our mostly indoor cats, Cloud and Solar, are comfortable on leashes in the backyard. (That was a 2020 resolution.) So we're introducing them to the trailer, and thinking about what sort of camping weekend would be a good first experiment. We might start camping with them right on our driveway. We also might be in the market for some cat backpacks, so they could hike with us. Both boys immediately offered to carry Solar, the lighter of our two "majestic" kitties.
Watch our planning video here: