We Picked Up Our Trailer!
It all began in the Summer of 2018. We took a long, glorious road trip through the Pacific Northwest. For two weeks, we camped in our gigantic tent, sleeping on air mattresses, and not exactly roughing it. We loved it. Just a few things, we thought, kept us from camping even MORE. Setting up and breaking down the tent were tedious. We had one very late night where we didn't even inflate our air mattresses. And my coffee addiction requires half and half, which means keeping dairy products cool for long periods of time. As we drove home from Washington, we started brainstorming about what we'd love in a camping vehicle.
It had to sleep four. We wanted something small, that would fit equally well in our driveway and in National Park campgrounds. Something easy to drive. Something cool. Nathan had watched an episode of How It's Made once, years ago, featuring a teardrop trailer with a roof that raised up, allowing campers to stand comfortably inside. Yes.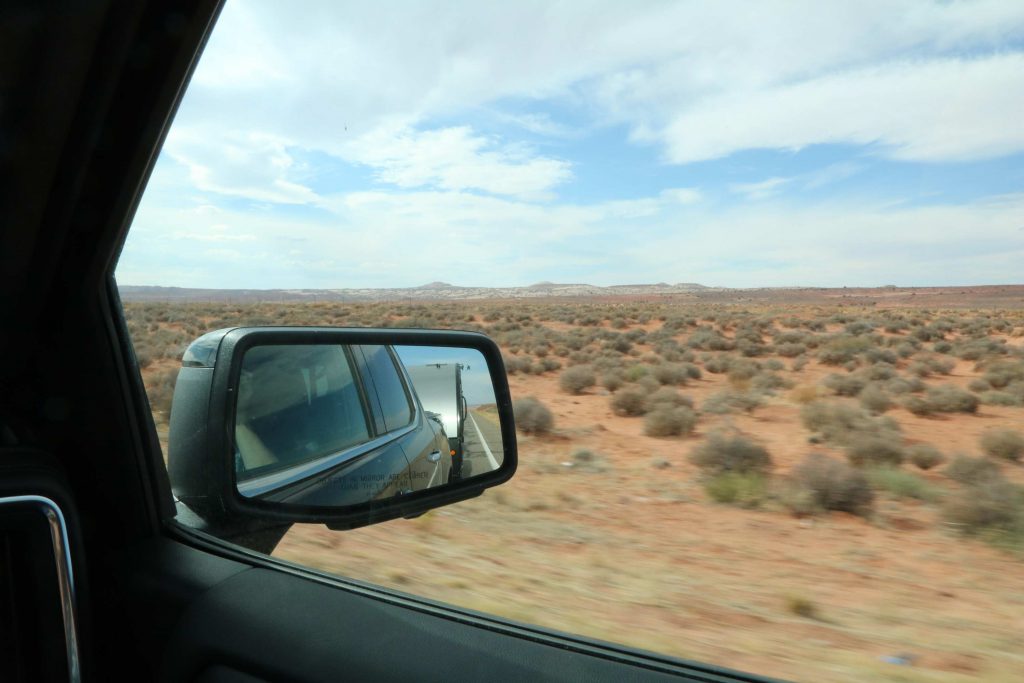 Thus began our journey with Safari Condo. When we ordered in the fall of 2018, there was an 18-24 month wait list for an Alto. Also, they are only manufactured and sold in Quebec, we'd have to pick up our trailer 3,000 miles from home. We sent a deposit, and started to plan the Summer of 2020. Our pick up date was 9 AM on June 25th, 2020 There were maps, charts, spreadsheets, YouTube playlists, and many, many books. By late February of 2020, we'd secured five weeks worth of hotel and campground reservations. We were ready.
Well, you know what happened.
Quebec closed, the border closed, the whole world closed. Reservations were canceled, and we started to wonder if we'd even be able to pick up our trailer once it was built. Canada was open and working sooner than the U.S. (great job Canada!) and we got word that our trailer would be ready mid-September. The border, however, was still closed.
The good folks at Safari Condo partnered with the amazing folks at Durango RV in Colorado, and started shipping trailers. Colorado is so much closer to California than Quebec, and we don't have to cross an international border (still closed as of this blog post.) We got word our trailer was shipping from Quebec on 9/23, and that it had arrived in Durango on 9/25. We made plans to pick it up on October 8. From two years of planning to just under two weeks of prep time. It was all fine with us, so long as we got our trailer.
We planned a quick trip, as the boys were still in school. We left home on a Tuesday evening, and drove straight through to Durango, with a pause in Flagstaff, AZ for some breakfast and internet. We spent Wednesday night in the cabins at the Oasis RV Resort and Cottages in Durango. The cabins were lovely, and from our front deck, we could see the Altos waiting in the lot at Durango RV.
Thursday morning at 8 AM we met with Mike at Durango RV to pick up our Alto. We can't say enough good things about Mike and Ele and the rest of the folks at Durango RV. They gave us a very thorough training on our Alto, and they were incredibly generous with their space, letting the boys set up in their staff room and use their wifi to go to school all morning. They encouraged us to call if any questions came up in our first night of camping.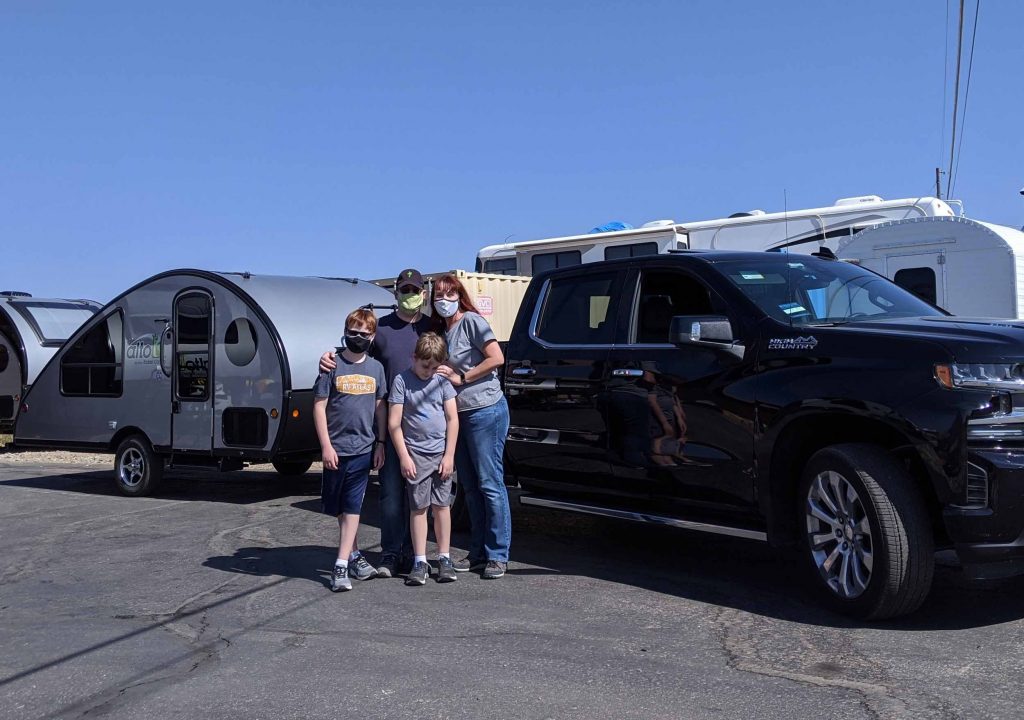 We stayed one more night, this time in a campsite at Oasis RV Resort. Our first night in the Alto was delightful. Our neighbors were on their second or third night in their new Alto as well, and it was fun to talk to them.
Friday we headed for the Grand Canyon, and the boys attempted to finish their school week as we drove through Colorado and Arizona. We got to the Grand Canyon Camper Village after dark, and got settled fairly quickly. No air mattresses required, and perfectly chilled half and half in the fridge.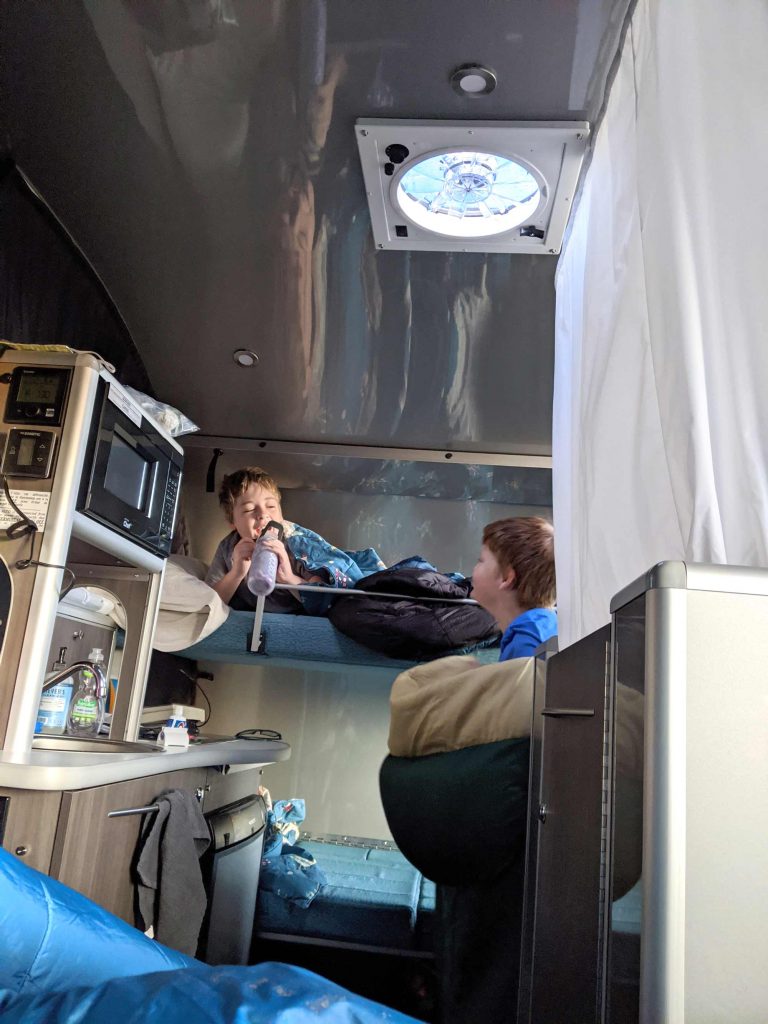 We spent Saturday morning exploring Tusayan a little. The boys had found a pizza and pasta restaurant they wanted to try, and so we had our first restaurant meal since March. We saw the IMAX movie "Hidden Secrets of the Grand Canyon," and bought some postcards and mugs at the general store. Midafternoon, we headed into the park, which is only two miles up the road from the RV park.
Noah is a fourth grader this year, so we were able to get into the park using the Every Kid Outdoors program. If you have a fourth grader in your family, you can get a free year long National Parks pass, but you need to fill out the form online and print out your pass before you get to the park. The ranger at the park gate made a fuss about us traveling with a fourth grader.
We wanted to enjoy the Grand Canyon while limiting exposure to lots of people, so after a short walk on the main Rim Trail, we drove as far as we could go on the East Rim Drive to find a spot for viewing the sunset. This turned out to be a great plan, as the pullouts and viewpoints along this trail were far less crowded and every bit as lovely.
Nathan also had aspirations of shooting some night sky photos from the Grand Canyon, which is officially a Dark Sky Park. We drove back towards the main entrance of the park and found a pullout where some other astrophotographers had already set up their cameras. We stayed for about a half hour, and got some great shots of the Milky Way above the Grand Canyon.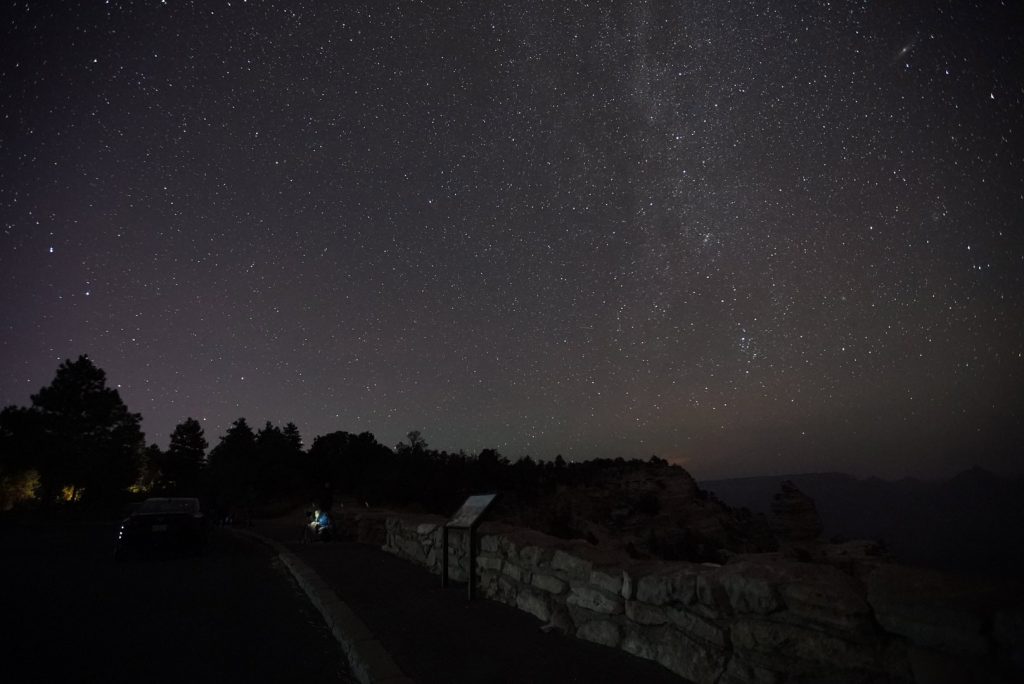 Sunday we started our trip back to the Bay Area. We had planned to visit the Mojave National Preserve near Needles, CA. When we arrived at the Desert View RV Resort, however, they had something the boys wanted to do even more than potentially seeing some desert tortoises. The RV park had a swimming pool that was open! So we had a relaxing evening, swimming and flying our drone for the very first time. We'll come back Mojave National Preserve, because the Desert View RV Resort was lovely.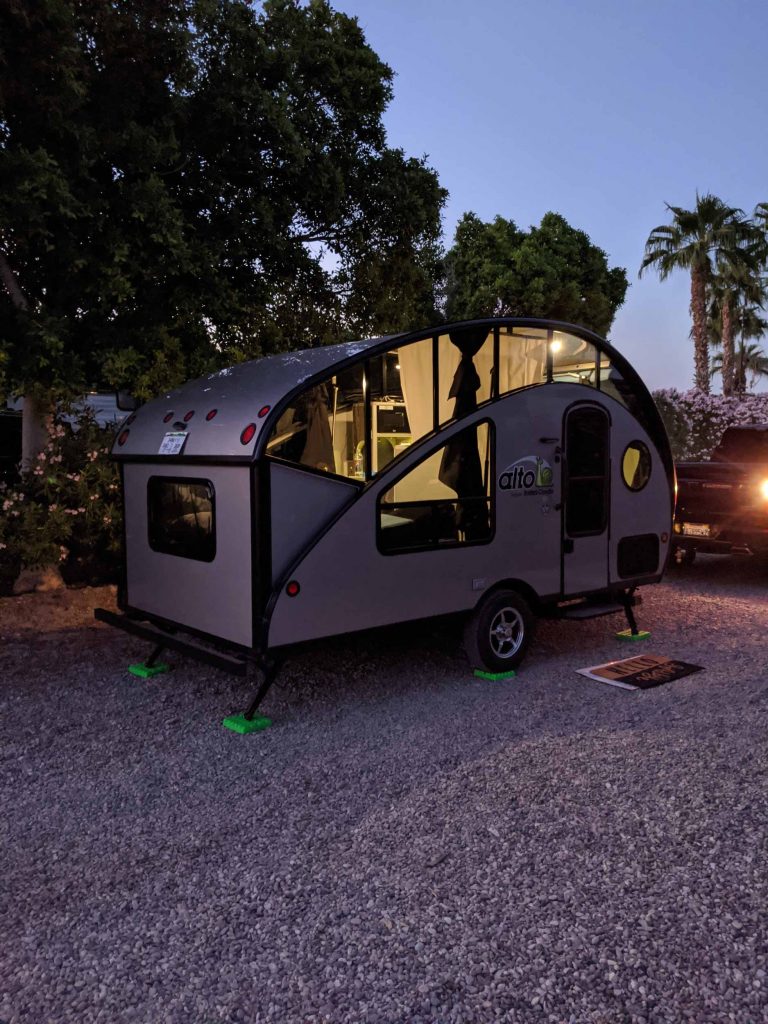 Then, Monday, we finished our return trip. We got home and successfully parked the Alto in our driveway for the first time. We've used it several times since, as an office, as a recording studio, as a place to get a few moments of solitude in a busy household. We're looking forward to getting into a routine of camping about once a month. Our first trip is right around the corner.
Check out the video from our trip: