Fall Creek, a unit of Henry Cowell Redwoods State Park in Felton, CA, is a place I consider "my park." Having spent almost a decade living in the San Lorenzo Valley, I have hiked these trails many, many times, though all in my pre-kid, single woman days. I love the redwoods, the creek, and the solitude. On my birthday, I decided it was time to share this park with the boys.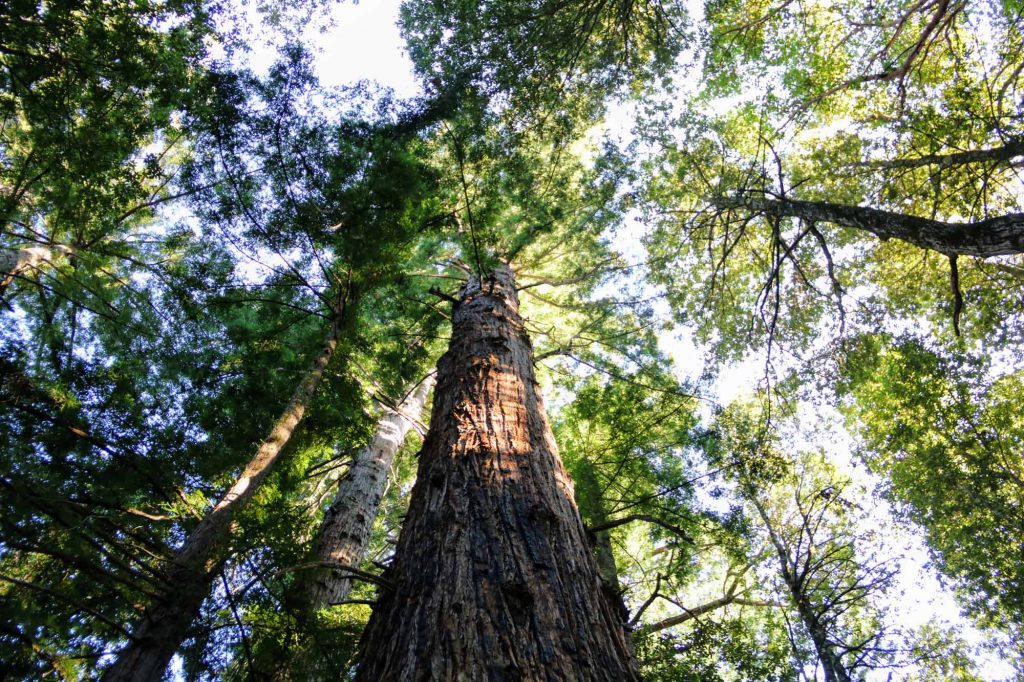 My regular loop is about seven miles, which would make this our longest trek of the summer. The first half of the walk is mostly uphill, getting to the top of the ridge above the creek. I knew the boys would find this hike challenging, but I knew they'd enjoy scrambling over the fallen trees and the roots in the trail, and that they'd love crossing back and forth across the creek on the way back. Of course, I was carrying a delcious assortment of snacks.
At start of the trail, signs alerted us to a trail closure at the Barrell Mill Area. Watching the video back, I see myself tracing out the route we'd need to hike, all the way around to the Big Ben Trail and past Lost Camp. Yet I never fully processed the idea that we'd be going back up the other side of the river valley once we came downhill, I thought we'd be walking along the river, which was my first big mistake.
The second problem was that I was deliberately avoiding talking about how long the walk would be, and how many hills we'd have to climb. Miles and Noah tend to ask repeatedly about how long, how far, how much more, how much higher, until the whole walk becomes a math problem. So I don't commit to a time or a distance. Nathan was looking Google Maps and saw just how much climbing we had ahead of us, but kept quiet, thinking I knew what I was doing.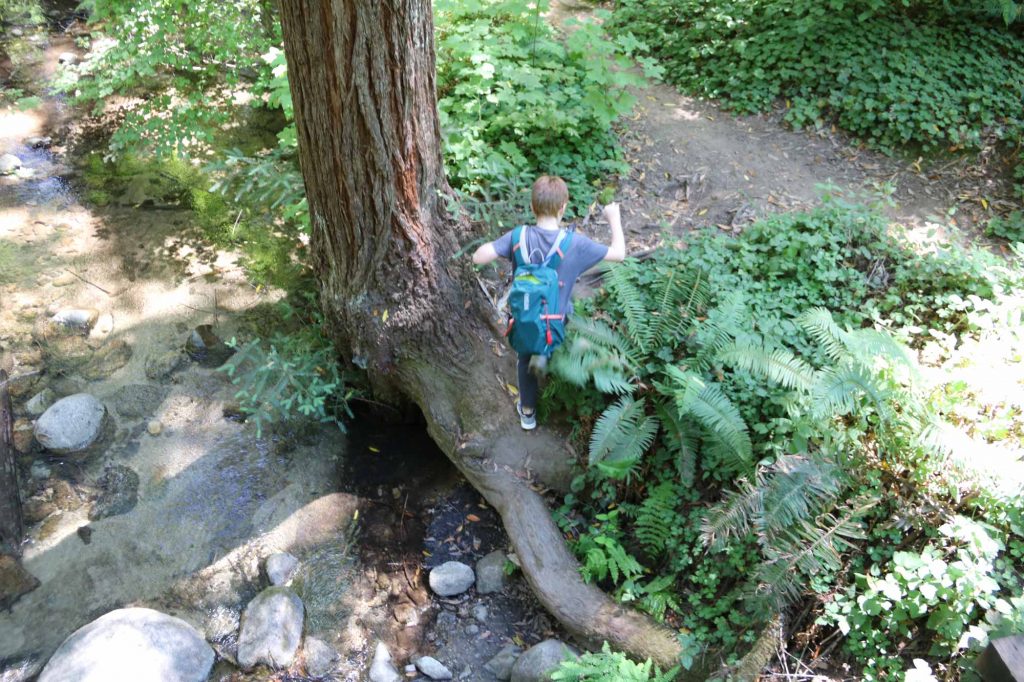 So three hours in, and at the end of our water supply, and when we were all ready for the walking to get easier, we had to climb uphill again. We were on the only section of trail in the park that I had never hiked, between the valley floor and the Big Ben tree. When we got to Big Ben and started downhill, things were still tough, as the trail was narrow and rocky, and required lots of concentration. There were some low moments, certainly, but if this year has taught us anything it's that we can keep walking through the low moments.
Finishing this hike, I realized there are a few skills I want to be sure the boys have, to support their future outdoor adventures. Map reading, for one, both distance and topography. I'll have to stop being coy about the disatnce we're hiking, but that's a good trade. They both would have been reassured if they could have been tracking our progress on a map, if they could see that we never really were lost or stranded in the wilds. They also need better risk assesment wilderness skills. Miles was concerned we'd have to sleep on the trail, that we were beyond help, when in fact we had solid cell signal and were in easy range of neighborhoods. Noah needs practice walking on the inner edge of the trail, rather than the side closest to a steep drop off. I want them to respect nature, and to be careful and smart on trails, but to appreciate the difference between a small park in Felton and say, the Australian Outback. And hey, let's be honest, my own map skills were shaky on this walk, and I ignored what was posted on the sign thinking I knew what was coming, so I could use some hiking skills practice too.
Around mile nine, and hour five, and completely unprompted, both boys started to talk about how this summer had been one of their favorites, even though it was not at all the summer we expected to have. Thirsty and foot sore, having passed all their previous hiking limits, they were talking about all the things they liked about this park. I was so impressed by their resilience and their positivity. They were kind to each other and supportive when things got hard. Hearing them check on each other if someone slipped, or say "good job," when someone got to the top of a hill, definitely boosted my own morale. The hike I thought I knew so well surprised me, but my kids were the bigger surprise. Love these epic hikers.
You should hike Fall Creek if you are in the Santa Cruz mountains. Twenty miles of hiking trails mean there are options for everyone, and those with young kids will enjoy hanging out by the creek and splashing in the water. There are no facilities here, so come prepared with water and snacks. And watch the signs about trail closures. 🙂
Watch the video:
Hike Stats:
Distance: 11.2 miles
Duration: 6 hours, 44 minutes, and 52 seconds
Average Speed: 1.7 mph
Minimum Elevation: 374 feet
Maximum Elevation: 1865 feet
Total climb: 2318 feet
Total descent: 2318 feet