Monte Bello Open Space Preserve
We're starting our summer adventure with a hike to the top of Black Mountain, the mountain we can view from our front yard. We've hiked and camped in the Santa Cruz Mountains, but this was our first trip to Monte Bello Open Space Preserve, and our first trip to the top of Black Mountain.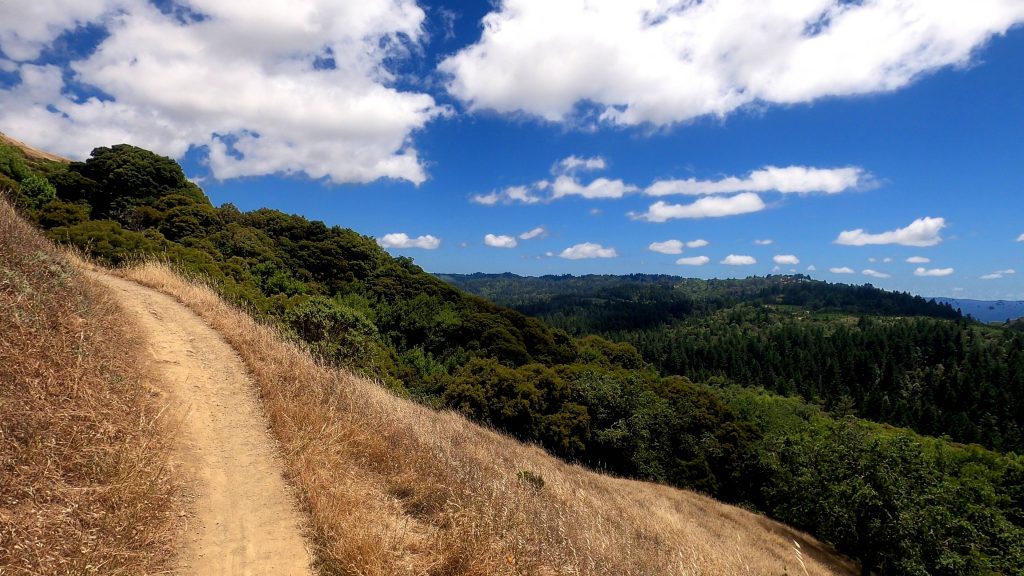 We parked in the lot off Page Mill Road, and started on the Stevens Creek Nature Trail heading to the Canyon Trail. There are lots of trails in the preserve, and you could visit repeatedly and not cover the same ground. We had a loop planned out that would cover about 5 miles and a reasonable 800 feet of elevation gain. We knew this would be a longish hike for the boys, but we expected to spend about an hour in each direction. (We were wrong.)
This was also our first big long hike with masks, where we mixed outdoor exploring with social distancing, and the boys did great. We wore our masks on the trails closest to the parking lot, where we encountered other hikers and then stored them away when we were alone on the trail. The crowds were light, even on a beautiful Saturday afternoon, and by the time we got to the top of the mountain, we had the views all to ourselves.
Our route was mostly along exposed grassy hillsides, with a gentle incline towards the top of the mountain, with a few shady stretches under the oak trees. Noah gives this hike high marks for wildlife. His list included red winged black birds (which are a favorite of his), one turkey vulture, and an abandoned snake skin. I was hoping for some hawks, but appreciated the views enough to make up for not finding any.
Hiking as a family is always a team sport. Everyone has to make it to the top of the hill, and that means managing the spirits of whoever is currently the least enthusatic hiker. Between the bird sightings and snack breaks, we keep the boys going on hikes with distractions. A favorite is storytelling, drafting long, rambling narratives with each person adding on bits. Usually these feature dragons, dinosaurs, centaurs or satyrs. On this particular afternoon, the boys spent at least a quarter mile developing an acronym for C.H.E.E.S.E., a band of dragons who were searching for gold, in the form of cheese products, rather than precious metals.
We made it to the top about an hour later than we expected. There were views to take in, a long stop at the backpacking camp for first aid, and several short stops for morale related issues. The views were awesome, we could see the whole Santa Clara Valley below and across to Mt. Hamilton.
The way back downhill was quicker, but we decided to speed things up even more, following the most direct route we could find. This served us well until the very last stretch of the hike, which left us walking along Page Mill Road a short way back to the parking lot. All in all, a great hike. Definitely a place worth a return trip. I'd like to check out this preserve again in the spring time, when the hills are green and the wildflowers are blooming.
Lessons learned :
More snacks. We had snacks, because we're parents, but we needed more, and more tempting snacks. "Climb a mountain to eat some pretzels" wasn't a good enough motivator.
More antiseptic wipes. A kid can fall over more than once on a hike.
Watch the video: